Using the Case Templates Feature
If your firm frequently initiates actions similar actions the Case Templates feature can save your firm filers time and reduce the incidence of data entry errors.
Firm eFiling Administrators can as many Case Templates as needed by your firm and they will all be available to your firm staff when they begin an eFiling submission.
It is important to note that the jurisdiction and party data in the template will be deleted if the filer changes the jurisdiction, Case Category, or Case Type.
Create a Case Template
As a firm eFiling administrator, login at www.filetime.com
Click the Case Templates button on the sub-navigation bar.
The Case Templates page opens as shown below (the templates area will be empty if you have not yet created any case templates.
Click the Add New Case Template button to create a case template.
Click the Edit button to edit an existing case template.
Add case template to the appropriate fields as shown below. The only field that is required is the Template Name (Figure 2, A).
Click the Choose Firm User/Admins (Figure 2, B) button to associate that person as the creator of the template.
If desired, you can click the Choose Service Contacts (Figure 2, C) button to associate service contacts with this template.
Start a New Case Filing with a Case Template

From the Workspace area (see below), click the Templates button drop-down arrow to open the drop-down menu.
Click the Case Templates button on the drop-down menu.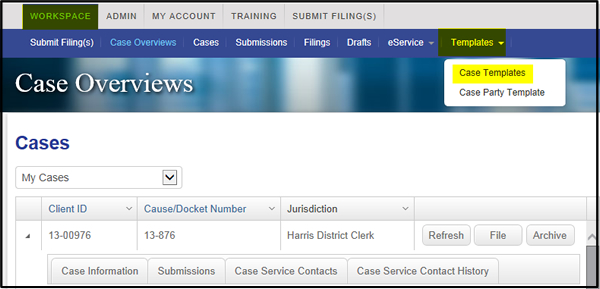 The List of Case Templates page opens (see below).
Click on a case template to highlight it.
The View button enables you to see the case info but it is also available for you to view Case Template Details section in the right column.
Click the Submit button to start an eFiling submission for the selected Case Template.
Complete the submission as you normally would.